Advanced structural analysis software
Robot™ Structural Analysis Professional software provides engineers with advanced BIM-integrated analysis and design tools to understand the behavior of any structure type and verify code compliance.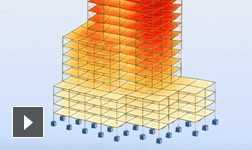 Overview video
See how BIM-integrated analysis tools can help you to understand the behavior of any structure type and verify code compliance.  

 Watch video (3:21 min.)
Advanced structural engineering software
Robot Structural Analysis Professional structural software helps engineers more quickly perform simulation, analysis, and code-based design for any type of structure. 
Browse by:
Analysis methods
Boundary conditions & meshing
Analysis & simulation
Code-based verification & design
Collaboration & reporting
What Robot Structural Analysis Professional users are saying
See how Autodesk customers are using Robot Structural Analysis Professional software to simulate and analyze large, complex structures quickly.
Brazilian World Cup stadium: Buro Happold
Buro Happold, a multidisciplinary design and engineering consultancy, uses a combination of Revit Structure software and Robot Structural Analysis Professional software to help create distinctive buildings, such as the Natal stadium constructed for the 2014 World Cup. 
"With Revit Structure, we can write our own script that enables us to generate advanced geometry very, very quickly….Using Revit Structure in conjunction with Robot Structural Analysis Professional, we've experienced a significant reduction in the time necessary to turn the design back around to the architect."
— Erleen Hatfield, Partner, Buro Happold
Error type: "Forbidden". Error message: "The request cannot be completed because you have exceeded your
quota
." Domain: "youtube.quota". Reason: "quotaExceeded".
Did you added your own Google API key? Look at the
help
.
Check in YouTube if the id
PLBRScD-M4M790SYITJ6miD0LDQo521zOI
belongs to a playlist. Check the
FAQ
of the plugin or send error messages to
support
.