Mudbox® digital painting and sculpting software provides 3D artists with an intuitive and tactile toolset for creating and modifying 3D geometry and textures.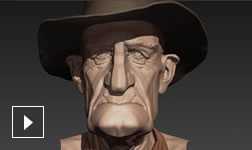 Overview video
View intuitive 3D sculpting and texture painting tools, and a familiar layered workflow. 

 Watch video (1:44 min.)
3D sculpting and painting tools
Use Mudbox® software to create high-quality 3D geometry and textures for your next project. Take advantage of an intuitive work environment and professional tools for 3D sculpting and painting.
3D sculpt and paint
Better brush-based workflows

New

Improve brush-based workflows when working with low resolution, low bit-depth polygons and textures.

Sculpting Falloff options

New

For brushes, choose Volume or Surface Falloff options, in addition to the default Hybrid mode.

Relax Brush

New

Use Constrain to Surface in the new Relax Brush to even out spaces between vertices while only making minimal changes to the original shape of a mesh.  

Twist for Grab Brush

New

The Twist feature in the Grab tool helps you twist all vertices within the sculpting brush falloff radius clockwise or counterclockwise. Use it to create swirled objects like soft serve ice cream, rotate ears and eyes on a character's head, or twist a character's mouth to create a smile or frown.

Professional digital sculpting toolset

Get fast, smooth, accurate results.

Paint directly onto 3D models

True 3D painting across multiple channels, in multiple formats.

Texture baking

Create accurate normal, displacement, and ambient occlusion maps.

Symmetry tools

Make any model symmetrical with a number of tools for symmetrical retopologizing in Mudbox.  

Base symmetry on the source topology or on a local or world axis for completely symmetrical results.
Copy painting and sculpting detail from one or both sides of the source.
Use the new Make Symmetrical tool to make existing meshes across one or more axes without retopologizing.

Caliper tool for proportional measurement

Measure the distance between two points on a model or along a curve.

Maintain accurate proportions while 3D sculpting.
Match meshes to a desired real-world scale or make them proportional to other objects or environments.
3D tool interoperability
Maya image plane matching

Enjoy a smoother multiproduct modeling workflow when using images for reference in both Maya and Mudbox software. Set up an image plane in Maya, and use it as a reference for base mesh modeling. Send it to Mudbox along with the model to add finer details, and it will retain many image plane parameter settings. You can continue to use the same reference without readjusting the image to match.

Maya Blend Shape interoperability

Create Blend Shapes and merge them into a Maya scene via Layer Groups.

Store Blend Shapes as Sculpt Layer groups in Mudbox.
Add new targets or delete existing ones within Mudbox, and correctly update them in Maya.
Take advantage of the intuitive sculpting toolset in Mudbox to create facial shapes and carry out shot sculpting.

Maya interoperability for textures

Import and export Ptex and multitile UV textures to and from Maya.

Single-step interoperability provides an iterative round-trip workflow between Mudbox and Maya using Ptex and multitile texturing methods.
Ptex textures offer a UV-less painting workflow.
Multitile textures enable artists to paint outside of the 0-1 UV space.

Texture export and updating

Set different export paths for different channels and paint layers using enhanced texture export and updating.

Mudbox remembers the paths; update textures in one click during painting, regardless of the target downstream application or whether Mudbox supports the shaders.
Reduce manual relinking and flexible iterative painting workflows within custom pipelines.
Accessible workflow
Advanced retopology tools

Create clean, production-quality meshes from scanned, imported, or sculpted data.

Efficient layer grouping

Organize Sculpt and Paint Layers into layer groups to quickly and easily identify them in complex scenes.

Toggle visibility into focus on a particular aspect of the work, or duplicate multiple layers at once.
Use Sculpt Layer groups to receive and store Blend Shape targets from Maya software.
Use Paint Layer groups to manually merge layers or flatten groups on export.

Interactive control and display

Multitouch interaction and render-quality results in the viewport.

3D layer capabilities

Experiment with design concepts and make revisions easily.

In-product community

Check out other artists' profiles for inspiration, learn tips and tricks for getting started in Mudbox with free* tutorials, and share your own projects, 3D assets, and textures in the Mudbox Community.
ACE-Hellas S.A.
Integrated Solutions