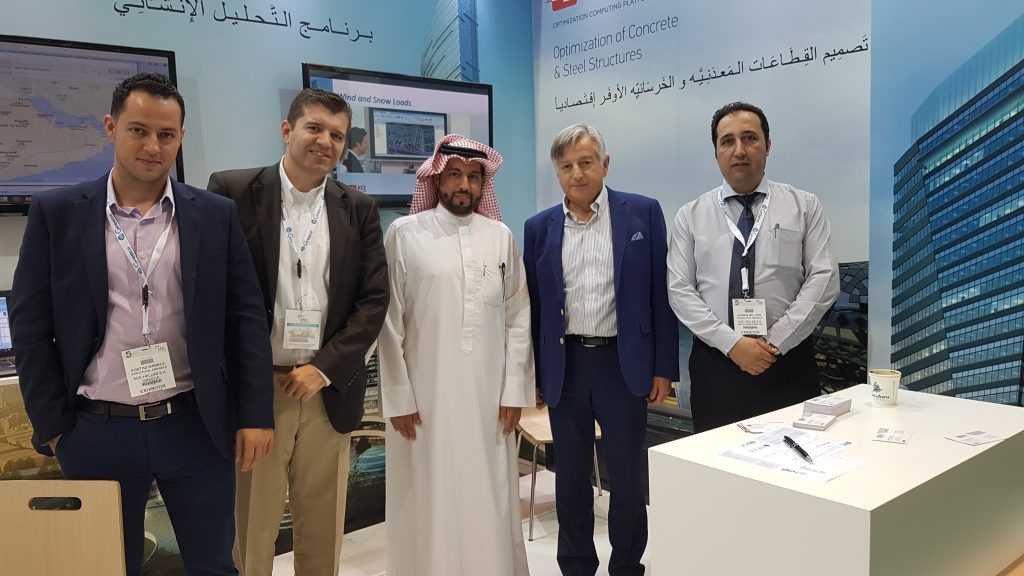 Athens, November  2016 – ACE-Hellas® participated with great success to The Big 5 International Building and Construction Show, that was held from Nov. 21-24, 2016 for the 37th year at Dubai's World Trade Center (DWTC) in Dubai, United Arab Emirates. ACE-Hellas presented its products at Concourse 240, daily from 11:00-19:00.
For more than three decades, The Big 5 has evolved into the largest, most influential and renowned portfolio of construction industry events spanning the Middle East, India and South East Asia. It concentrates on its premises, the world's largest range of products and services in the construction sector. In particular, the list of exhibitors includes companies with: software engineering products, MEP services, building interiors and finishes, building and special construction, construction tools and building materials, and smart building and design technologies.
ACE-Hellas introduced the biggest update ever of its leading structural analysis and design software, SCADA Pro 16™, featuring the most powerful engine to date, ACESFS™, and full support for Saudi Building Code (SBC). Incredible new features, such as integrated advanced flat slab support and bi‑directional communication with SAP2000® and ETABS®, help professional engineers deliver extraordinary projects optimized for speed and accuracy. The new version extends SCADA Pro's advanced redesign capabilities of existing structures and ads remarkable building rehabilitation and restore options with Sika's most advanced systems, seamlessly, incorporated in the new interface. Built-in smart automation tools ensure speed in the design and execution of even the most complex projects. Polish language has been added in the multilingual interface bringing the supported languages to five (English, Italian, German, Polish, Greek), including their respective national annexes.
ACE-Hellas also unveiled the first commercial Optimization Computing Platform in the world, ACE OCP™, for cost reduction in the architecture, engineering and construction (AEC) market. This innovative tool, representing the future of Value Engineering, goes far beyond what was possible with traditional optimization techniques and encompasses state-of-the-art algorithms to automatically optimize any structure in order to reduce construction and/or material cost, by at least 10%, consistent with the required performance, reliability, quality and safety. ACE OCP is available either as a module for SCADA Pro 16 or as a plugin to SAP2000/ETABS.
"Our participation in this year's" THE BIG 5 SHOW "exhibition in Dubai, strengthens our international growth and increases the market for our powerful products. We believe that the GCC and UAE, in particular, represent an important opportunity for innovating companies in the construction industry, not only because of the large projects undertaken in the region, but also because of its geographical location," said Dr. Dennis Ioakim, ACE-Hellas founder and chairman.
More information about ACE-Hellas and its products can be found online at the company website: www.ace-hellas.gr. 
ACE-Hellas short profile: 
ACE-Hellas AE (www.ace-hellas.gr) was founded in 1979 and since 1999 is a member of the Quest group. Today, it has grown into one of the most innovative providers of integrated ICT solutions and a leader in structural design, engineering and sustainability software. ACE-Hellas is a strategic partner of the largest technology companies (HP, Contex, CSI, Autodesk, Microsoft etc.) and has a customer base that includes more than 7,000 companies in Greece and Cyprus. The ACE-Hellas operates four business units: CAD Solutions (development, distribution and support of innovative technical software), Mobile Solutions (development, distribution and support of mobile applications), Solutions Hardware (supply and support of office equipment), and ERP Solutions (development and support of custom ERP/CRM applications).
Contact person of ACE-Hellas:                  
Penny Ioakim                                                    
Tel: +302106068636         Fax: +302106068699                                       
Mob: +306946907908      E-mail: [email protected] 
SCADA Pro, SFS, and ACE OCP are trademarks of ACE-HELLAS. Other company and product names may be trademarks of their respective owners. ETABS, SAP2000 are trademarks of COMPUTERS AND STRUCTURES, INC.